On March 27th, freshman center Trevor Zegras, selected 9th overall in the 2019 National Hockey League Entry Draft, signed with the Anaheim Ducks, cutting his Boston University career short at one season. In this Retaking the Ice story, let's look back on some of the other one-season wonders of the BU men's hockey team.
1990-1991: Scott Lachance
Let's kick things off with our only pair of one-season wonders to play in the same single season at BU. Scott Lachance was limited to 31 of the team's 41 games in the 1990-91 season, but he still got to show off the talents that earned him the No. 4 overall selection to the New York Islanders in the '91 draft. He scored 24 points (5g, 19a) in those 31 games and helped anchor the BU defense that ran all the way to the Division I championship game. Lachance would go on to wrack up another 143 points in 14 NHL seasons.
1990-1991: Keith Tkachuk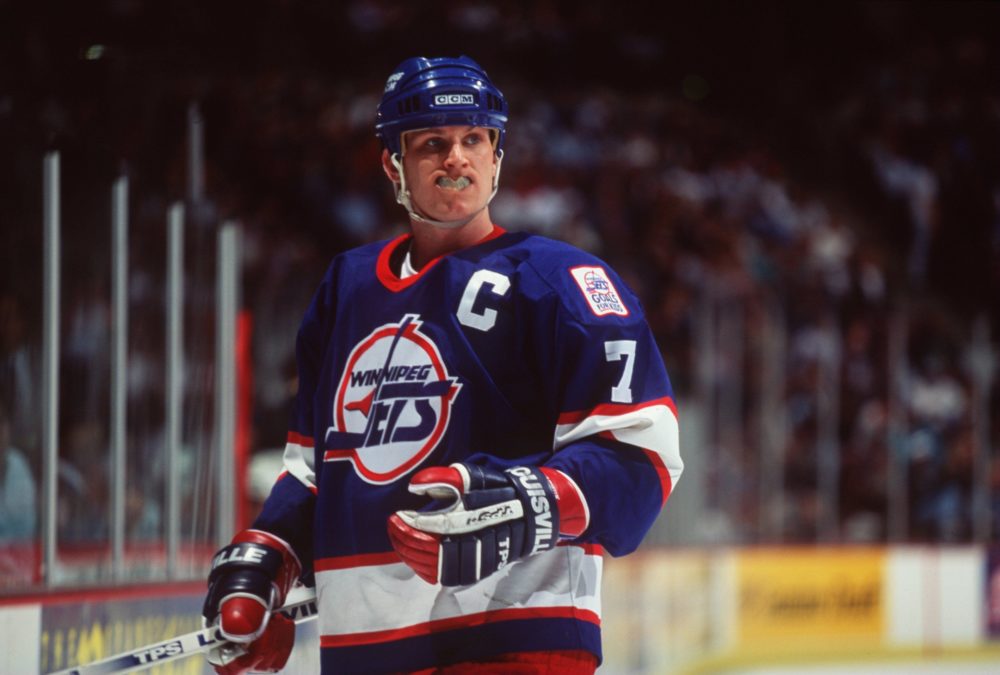 Fun fact: three players on this '90-'91 team are fathers to Terrier players who were teammates during the 2017-2018 season. Along with Tony Amonte and Mark Krys, Keith Tkachuk was one of seven elite scoring forwards on this 1990-91 Terriers team. He scored 40 points in the 1990-1991 season: and that was fifth on the team. BU's top four scorers each reached 60 points. Tkachuk's 17 goals and 23 assists proved that the No. 19 selection by the Winnipeg Jets was pro-ready and only needed his one season in Boston. He would go on to score 1,065 points in 1,201 games with the Jets, Arizona Coyotes, Atlanta Thrashers and St. Louis Blues. 27 years later, Tkachuk's son Brady, along with Amonte's son, Ty, and Krys' son, Chad, would bring these three families back together wearing the scarlet and white for another season.
1991-1992: Adrian Aucoin
Aucoin played in 33 of the team's 35 games during his season at BU. While he only wracked up 12 points (2g, 10a) during that time, his defense helped BU on the way to their 17th Beanpot title (their third straight) and a 22-9-4 season. While his collegiate numbers might not stand out among the other one-season wonders, Aucoin went on to score 399 points in over 1,100 games for seven different team in the NHL.
1999-2000: Rick DiPietro
Here we have the first, and so far only, No. 1 overall pick to come to the Terriers. DiPietro posted a 2.45 goals-against average in his time at BU, a season which the Terriers won their 22nd Beanpot title, finished first in Hockey East and made the NCAA Tournament. While he only appeared in 30 of the team's 46 games during the 1999-00 season, the Terriers went 18-5-5 in his starts, and the 18-year-old Islanders draftee became the fifth Terrier goaltender to reach the NHL.
2004-2005: Chris Borque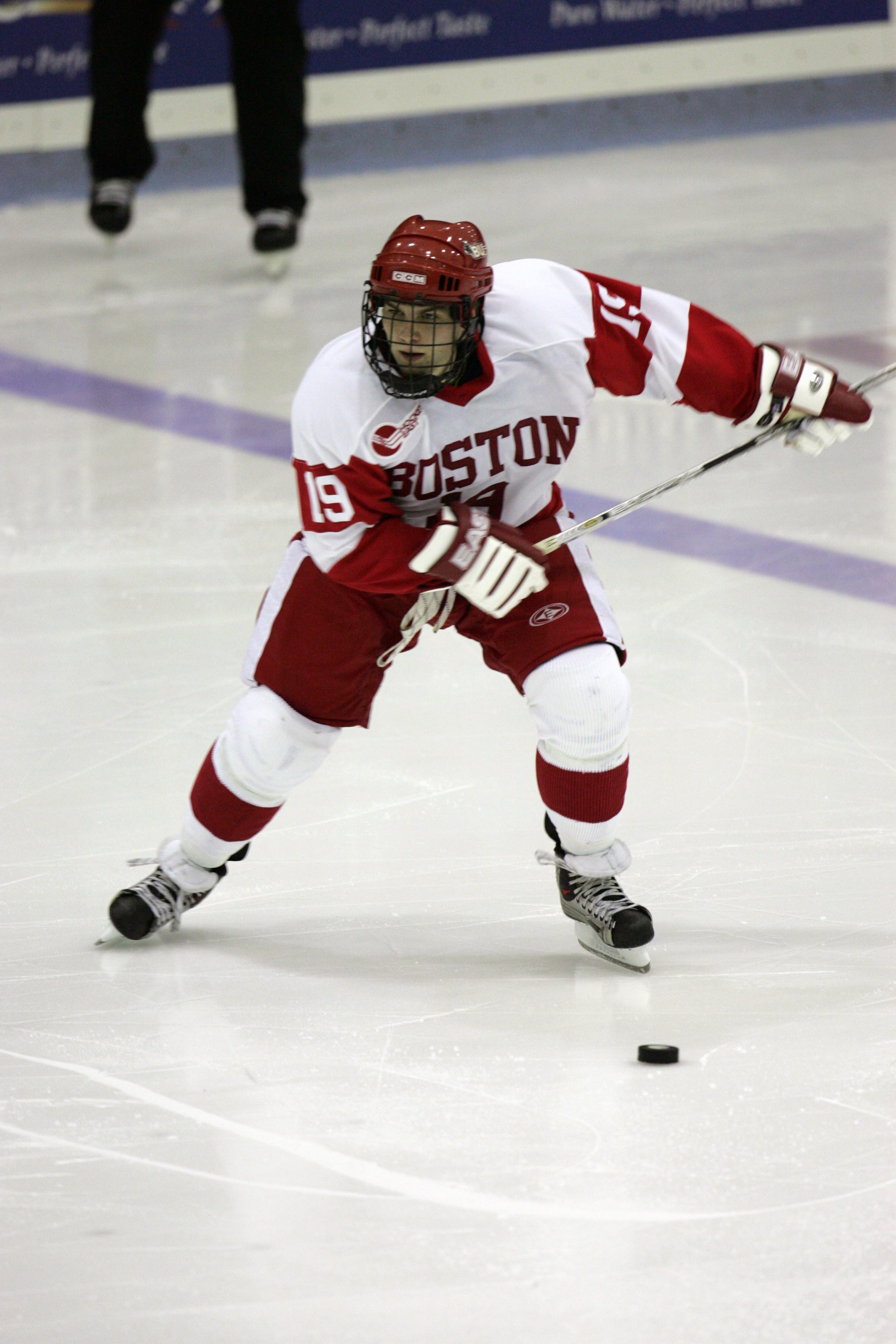 Borque arrived at BU and gave the Terriers an elite quartet of left wingers. Between him, Peter MacArthur, and '05-'06 co-captains Brad Zancanaro and David Van der Gulik, this group scored 104 points in 2004-05. Borque scored 23 of those points, and suited up for 35 of the team's 41 games. The second round draftee of the Capitals would leave BU after one season, a year in which the Terriers won the Beanpot (their 26th title) and made the NCAA Tournament, to head to the AHL, where he dominated for four seasons before getting a crack at the big time.
2014-2015: Jack Eichel
Coming to BU at the young age of 17, and as one of the youngest and highly touted prospects in the world, Jack Eichel enlightened the whole hockey world to two facts. (1) That he would be a clear No. 1 or No. 2 draft choice in the 2015 draft, and (2) that when he was on the ice for BU, everyone's eyes were always on him. He scored four points (2g, 2a) in his first career game versus UMass Amherst on October 10, 2014, and more than set the tone for the whole season. He would score like this in many other games that season, it would take a whole article to cover them all (maybe I will some time down the road).
The third Terrier to win the Hobey Baker Award, the first Hockey East player to average two points per game in league play (44 in 22 games) in sixteen years, the 2014-15 Hockey East Rookie of the Year AND Player of the Year, Eichel revived the Terriers hockey team and helped them reach the Division I title game. The Sabres captain had one of the greatest one season wonders in Terriers history, and NCAA history.
2016-2017: Clayton Keller
Clayton Keller arrived at BU with a lot of hype. The whole college hockey world knew what the No. 9 draft pick of the Arizona Coyotes could do, and he took charge of the BU offense from day one. Being the first one-season wonder since BU's best one-season wonder in Eichel, he would go on to follow Eichel's lead and top the team in scoring with 45 points and gave the Terriers an elite, youthful first line alongside Patrick Harper and Bobo Carpenter.
Keller went on two massive point streaks in his time as a Terrier, going on a fifteen-game streak from November to February, and finished his season on another ten-game streak. The '16-'17 Hockey East Rookie of the Year and three time player of the month helped BU play .650 hockey with him at left wing, and this season remains the team's best since the great '14-'15 run. Keller has gone on to average nearly 53 points per season in three years with the Coyotes in the NHL.
2017-2018: Brady Tkachuk
Tkachuk followed in his father's footsteps in more ways than one. He joined the Terriers, had a dominant freshman season, and then left to begin his NHL career with the Ottawa Senators. While he only wracked up 31 points in his lone season at BU, he helped enhance the games of Jordan Greenway and his other linemates (whether that was Drew Melanson, Bobo Carpenter or others), and that made BU a dangerous team yet again.
He led the team with 23 assists and 131 shots. Simply put, he got a lot of opportunities to wrack up points, and he took advantage. The '17-'18 All-Rookie teamer helped the Terriers win the Hockey East championship and reach the NCAA Tournament for the fourth straight season. Tkachuk has scored 89 points in 142 games in two seasons with the Senators
2018-2019: Joel Farabee
Farabee arrived as one of the many new freshman to join the team. He would go on to lead the Terriers in scoring in his one season in scarlet and white. With 36 points on the season, the Flyers draftee showed off his two-way abilities. He could score as well as he could block shots, and he excelled at both.
Farabee won numerous accolades in his short time at BU, including Hockey East and NCAA Rookie of the Year, while earning eight top performer awards and leading BU in points, even-strength, shorthanded and power play goals, as well as power play points. While it wasn't a great season for the Terriers as a team, Farabee helped them stay close to .500 and still have a successful Hockey East season. Farabee had a solid, 21-point rookie season in the NHL this season.
2019-2020: Trevor Zegras
Finally, we get to the most recent one-season wonder of the Terriers. In a season where BU had 17 combined freshman and sophomores on the roster, Zegras quickly showed that he was the most exciting to watch. He posted two four-game point streaks in his first ten games as a Terrier. He had a another seven-game run from mid-January to mid-February where he scored points in six of seven games, including both Beanpot contests.
He also had two goals in the 68th Beanpot Championship game, including the game-tying goal with 1.2 seconds left in regulation that made my voice literally soar to new heights (be sure to check out that call on the WTBU Sports YouTube channel). His speed and shooting allowed him to score with ease and assist on goals even more easily. The Ducks are lucky to have him, and Zegras more than left his mark at BU.
Those are some of the best one-season wonders that the BU Terriers have been lucky to have. As much as it can sting to see players with such talent come, dominate, and leave after one season, let's hope that BU continues to receive these elite talents to help the Terriers to more winning seasons to come.