BOSTON, MA  — Joe West staring down Madison Bumgarner after a questionable ball four call, as if daring the frustrated pitcher to give West a reason to eject him. Jerry Meals calling baserunner Julio Lugo safe after the latter was tagged three feet shy of home plate, ending a 19-inning game between the Pittsburgh Pirates and the Atlanta Braves with a farce of a walk-off single. Marty Foster calling strike three on a full-count pitch that landed practically in the dirt and—according to the MLB's own televised pitch-tracking map—was at least half a foot to the left of the strike zone, ending a one-run game in the top of the ninth inning with the tying run at first base.
These are just a few of the countless occasions on which Major League Baseball's umpires have, to varying degrees of egregiousness, demonstrated erroneous judgement behind home plate. Whether through misplaced strike zones; mistaken safe/out rulings; phantom foul tips; or decisions to confront disgruntled players and coaches rather than deescalate the situation (cough cough Mr. West), the MLB's on-field arbitrators have long earned the ire of teams and fans and remain regularly subjected to jeers, boos, and arguments over calls perceived—more and more often with good reason—to be incorrect.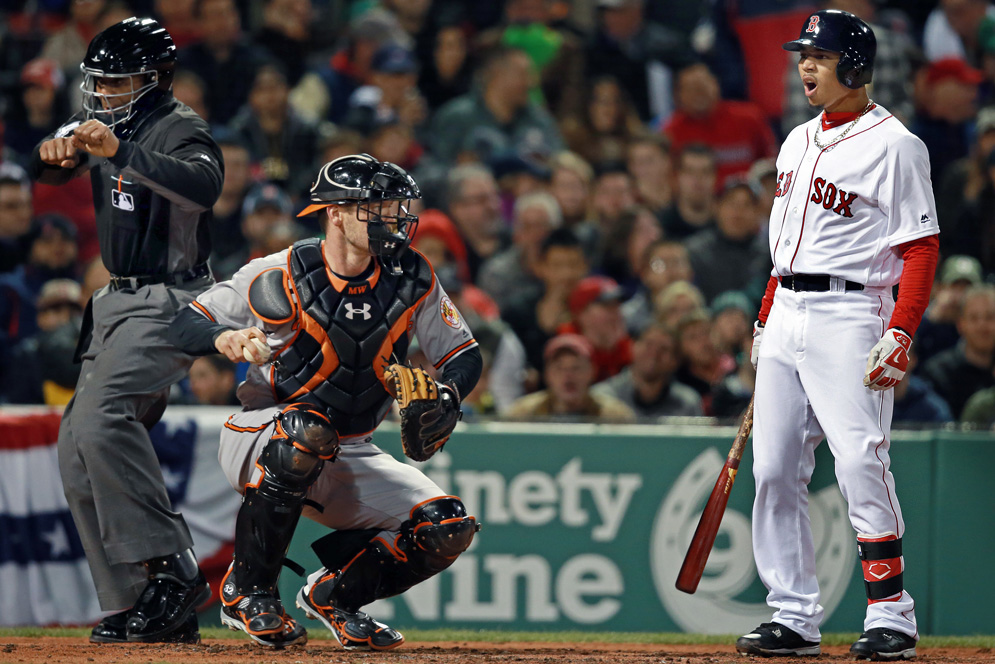 However, there may yet be some hope for those impacted by low-quality MLB umpiring. In October of last year, a new app launched across mobile platforms with the aim of providing more in-depth, accurate evaluation of baseball officials. From the mind of Boston University statistics professor Mark Williams comes UmpScores—the app that officiates the officiators.
UmpScores states its goal as being to "provide powerful and user-friendly data analytics on plate umpire performance that improves overall fan experience and betters the game." By combining data from MLB ballparks' pitch-tracking radar with its own deep-dive analytics software, the app generates live rankings for each umpire based on his efficacy behind the plate. Users can explore an umpire's performance relative to a plethora of different factors and track said performance by individual games, weeks, months, and seasons as well as the umpire's overall career.
Williams, himself a lifelong baseball fan, obtained the inspiration for the app after personally playing witness to the failures of MLB pitch-calling.
"The idea for UmpScores emerged while sitting at Fenway Park. It was at a playoff game, and I was struck by the number of incorrect umpire calls," Williams explained. "I thought there must be a way to provide MLB fans, players, and managers with a transparent scorecard that measures, tracks, and ranks umpire performance."
Working off this sentiment, Williams gathered a team of graduate students at BU's Questrom School of Business and began a project to study the actual accuracy of home plate pitch calls. The results of the research, published in April 2019, were (no pun intended) striking. Williams and his team found that over the course of the 2018 season, MLB umpires made a total of 34,294 incorrect ball/strike calls—an average of 14 per game. They also determined that home plate umpires made incorrect calls at least 20 percent of the time, or one in every five calls. Those numbers combined to demonstrate umpire error rates that were three times higher than those officially claimed by the MLB. Based off of these horrific conclusions, Williams advocated in a BU Today article for "a stronger performance-based system coupled with readily available technology [that] would allow the human aspect of the game to remain while respecting the benefits that can come with advancing technologies."
Williams's research swiftly gained widespread publicity, and support for his ideas grew at a rapid pace. He therefore conceptualized UmpScores as a "natural extension" of his research. Teaming up with BU students once again, Williams began development of the app in the summer of that year. By fall, the app was ready for launch—just in time for the 2019 World Series.
UmpScores was greeted with universal fanfare by tech and sports media. DNVR asserted that the app "will change the way you watch baseball." Marketplace praised it for "[laying] bare the successes and failures of the guys behind home plate." Williams's personal favorite quote about the app comes from NPR Tech, which called UmpScores "moneyball for umpires."
Umpires' "scorecards," as generated by the app, look very similar to the player cards many baseball fans will recall collecting in their youth. Each scorecard includes a headshot of the umpire, along with his age, status, jersey number, associated crew, and number of home plate appearances. Users can view a variety of statistics for each umpire, including bad call ratio (BCR), bad calls per game, bad calls per inning, pitcher/batter favoritism, call consistency, overall rating, crew ranking, and number of ejections. Many of those statistics can be enhanced to incredibly in-depth proportions; BCR, for example, can be broken down by individual games, teams, pitchers, and pitch types, and can be viewed in numerical or charted form. Users can also see an umpire's best season, best game time, best weather conditions, and best and worst ballparks relative to his BCR, and can ascertain the impact of an umpire's age on his decision-making behind the plate.
As the popularity of UmpScores continues to soar, Williams continues to explore ways in which the app can be enriched. With the continued advent of technology-assisted officiating across professional sports, such as VAR in soccer and Hawk-Eye in tennis, this includes the possibility of the app's concept and technology being directly utilized by Major League Baseball and other sports organizations.
"This app has broader use than just baseball," Williams said. "The platform can be used across numerous professional sports."
Regardless of UmpScores's future, Williams remains driven to improve the experience of baseball for the teams on the field and the fans in the stands.
"Bad calls negatively impact game outcome and overall fan experience," he said. "UmpScores was…driven by a desire to improve the game of baseball."
The app itself will certainly exist until, at the very least, this initial mission is fulfilled—a mission best stated by the simple motto on the app's About page.
"Until MLB umpires call perfect games," it reads, "there will be a need for UmpScores."
---
UmpScores is available on the Apple and Google Play app stores.
www.umpscores.com  
@UmpScores 
@ScoresUmp   
umpscores@gmail.com